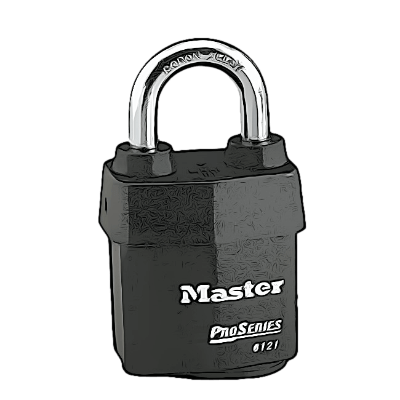 Shrouded Padlock
This high-security lock has a body constructed out of solid steel, and it conceals a locking cylinder made from brass. The keyway contains a chrome-plated brass ring, which makes it more difficult to pick the lock and reduces the amount of grit and dirt that could become lodged in the keyway. Your doors and belongings will be protected from potential danger by the chrome-plated, hardened shackle that features double locking mechanisms. Once the shackle is in place, it is extremely challenging to gain access to it in order to pry, cut, or saw it free from its attachment.
Closed Shackle Padlocks
You can secure outdoor sheds, garages, and storage units with the assistance of closed shackle padlocks. These padlocks are made of heavy-duty steel and have been developed with the purpose of providing security. This lock is closed in order to prevent cutting, and it also incorporates a double ball locking mechanism for added protection. In addition, its resistance to corrosion has been evaluated in order to ensure that it is protected against the effects of the weather.
IBM-MA205354
From R800,40 incl VAT
excluding shipping
Ideal for industrial, storefront and business gates, truck doors and manufacturing environments
Number of keys: 2
Dual ball bearing locking mechanism
Hardened boron alloy shackle resistant to cutting and sawing
Laminated steel body in plastic weather shroud
Shackle dimensions: A:8mm B:18mm C:22mm
Security level: high to maximum security
Item delivery usually 3 - 6 working days
IBM-MA520000
From R497,95 incl VAT
excluding shipping
Safety lockout padlock
Material: Steel
Width: 38mm
Shackle dimensions: A:6mm B:38mm C:20mm
Number of keys: 1
Best for extreme environment and lockout/tagout applications
6-pin tumbler with over 40,000 available key changes cylinder
Item delivery usually 3 - 6 working days
IBM-MA205360
From R1 146,55 incl VAT
excluding shipping
Ideal for industrial, storefront and business gates, truck doors and manufacturing environments
Number of keys: 2
8mm diameter hardened boron alloy shackle for superior cut resistance
Steel high shroud shackle protection
54mm heavy steel body that withstands physical attack
Shackle dimensions: A:8mm B:18mm C:22mm
Security level: high to maximum security
Item delivery usually 3 - 6 working days